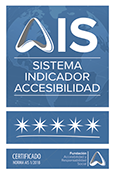 As part of ARQBÓREA's commitment to accessibility and a diverse society, the building has obtained the top accessibility rating: 5-star AIS (Accessibility Indicator System).
Created by the Fundación para la Accesibilidad y la RS, this certification takes into account physical, sensory and cognitive functional diversity criteria, so that any person, regardless of their condition, can move about the building comfortably and safely.
Accessibility has been built into the decoration and design of ARQBÓREA from its inception. For this reason, it achieves a high level of usability while maintaining criteria of modernity, elegant and the avant garde, thus demonstrating that incorporating accessibility is compatible with functionality.
In order to be awarded this certification the building encompasses physical, cognitive and sensory measures such as: